Home

/

Matthew 11 Jesus Gives Thanks Kids Spot the Differences
Matthew 11 Jesus Gives Thanks Kids Spot the Differences
By: Sharefaith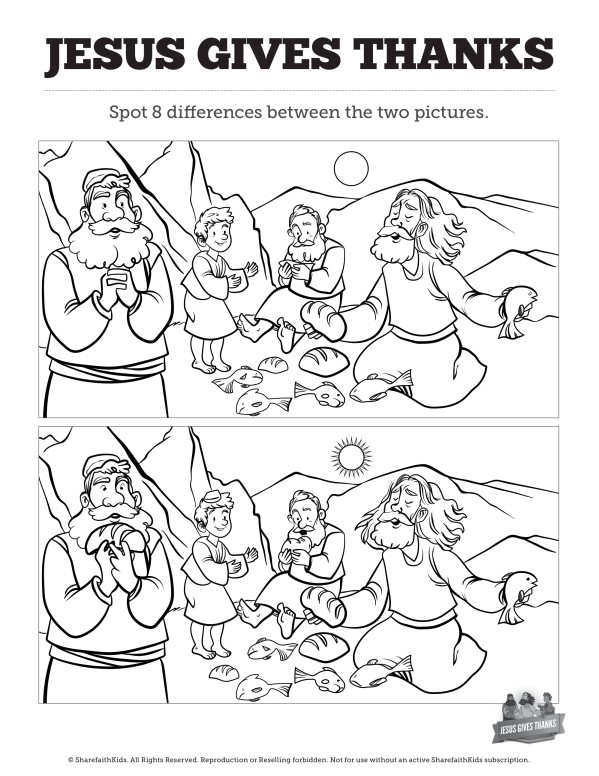 Description: Can you spot the difference? Is there a difference? Packed with silly fun, this Sunday School activity is a must-have resource for your upcoming kids Bible lesson on Matthew 11 Jesus Gives Thanks.
More From This Lesson: Matthew 11 Jesus Gives Thanks Thanksgiving Sunday School Lesson For Kids
The Jesus Gives Thanks Sunday School lesson is a powerful depiction of gratitude as seen through the life of Jesus. This Thanksgiving kids Bible lesson traces key moments in Jesus life where he gave thanks: when he was rejected (Matthew 11), when he cared for others in need (John 6), when he grieved the loss of a close friend (John 11), and even in the face of persecution and death (Luke 22). Jesus was the perfect embodiment of the command found in 1 Thessalonians 5:18 to give thanks in all circumstances. Inside this lesson you will find a thought-provoking kids Bible story that features a vibrant lesson video, interactive activities, volunteer-friendly curriculum and so much more!