Home

/

Matthew 11 Jesus Gives Thanks Bible Bookmarks
Matthew 11 Jesus Gives Thanks Bible Bookmarks
By: Sharefaith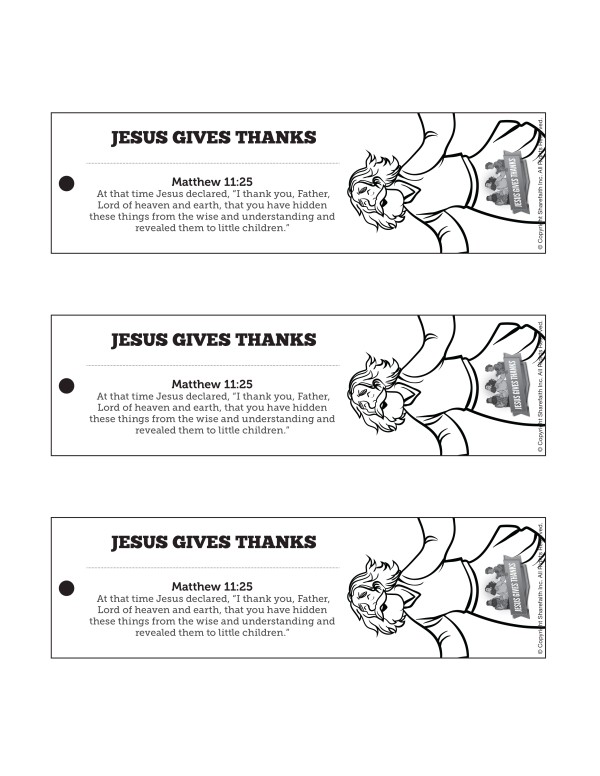 Description: Encourage your children to study what Scripture has to say about thanksgiving by sending them home with these Jesus Gives Thanks Bible Bookmarks. Ready to print, color and cut out, your kids are going to love them!
More From This Lesson: Matthew 11 Jesus Gives Thanks Thanksgiving Sunday School Lesson For Kids
The Jesus Gives Thanks Sunday School lesson is a powerful depiction of gratitude as seen through the life of Jesus. This Thanksgiving kids Bible lesson traces key moments in Jesus life where he gave thanks: when he was rejected (Matthew 11), when he cared for others in need (John 6), when he grieved the loss of a close friend (John 11), and even in the face of persecution and death (Luke 22). Jesus was the perfect embodiment of the command found in 1 Thessalonians 5:18 to give thanks in all circumstances. Inside this lesson you will find a thought-provoking kids Bible story that features a vibrant lesson video, interactive activities, volunteer-friendly curriculum and so much more!