Home

/

Luke 2 The Miracle of Christmas Curriculum
Luke 2 The Miracle of Christmas Curriculum
By: Sharefaith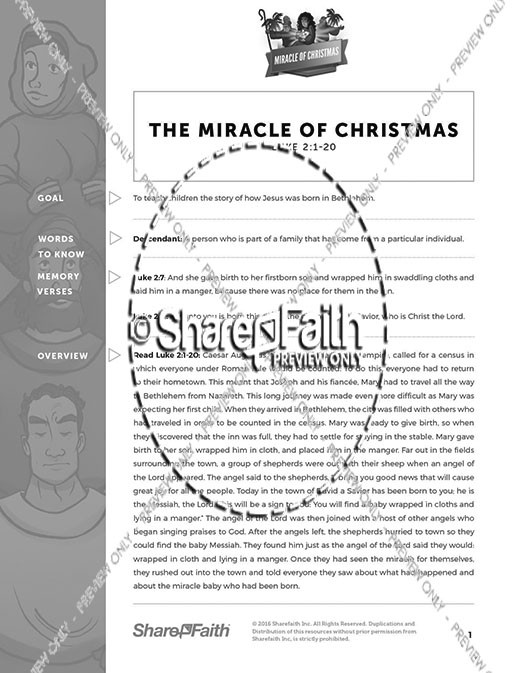 Description: The Luke 2 Miracle of Christmas Sunday School Curriculum empowers you to confidently teach an inspiring Luke 2 Sunday School lesson to your kids. This must-have teaching resource is packed with content that includes key teaching points, activities, Q&A discussions, closing prayer and so much more!
More From This Lesson: Luke 2 The Miracle of Christmas Sunday School Lesson For Kids
After Caesar Agustus called for a census throughout the Roman Empire, Mary and Joseph made their way to their hometown of Bethlehem. Once there, a miracle took place. Mary gave birth to Jesus, the Savior of the world! Inside this kids Bible lesson youâ??ll find an exciting resource bundle that includes a beautiful Bible video, teaching slideshow, fun activities, an interactive family devotional and volunteer-friendly curriculum. Itâ??s everything you need to teach Luke 2 The Miracle of Christmas with confidence!