Home

/

Luke 15 The Parables of the Lost Sheep and Coin Bible Bookmarks
Luke 15 The Parables of the Lost Sheep and Coin Bible Bookmarks
By: Sharefaith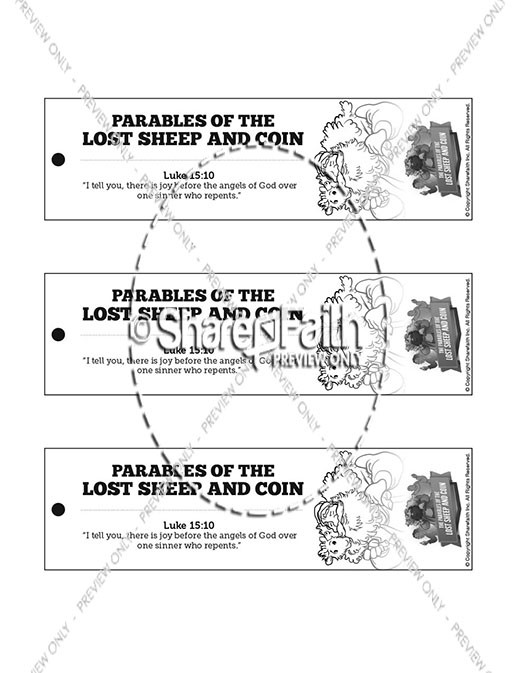 Description: Encourage your students to explore Luke 15 with these Parables of the Lost Sheep and Coin bookmarks. Ready to print, color and cut out this Kids Bible activity is perfect for your upcoming Luke 15 Sunday School lesson.
More From This Lesson: Luke 15 The Parables of the Lost Sheep and Coin Sunday School Lesson For Kids
In this Luke 15 Bible story, a group of tax collectors and other people who were considered to be sinners gathered around to hear Jesus speak, which made the Pharisees and other religious leaders upset. They didn't like that Jesus would associate, and even eat a meal, with such sinful people. To this, Jesus responded by telling a couple of parables. The first story was about a shepherd and his flock of 100 sheep. The other parable was about a woman with 10 silver coins. Jesus explained that in both situations, the joy the shepherd and the woman felt finding their lost items was the same joy felt in heaven when people return to God and repent of their sins. Inside this kids Bible lesson you'll find an exciting resource bundle that includes a beautiful Bible video, teaching slideshow, fun activities, an interactive family devotional and volunteer-friendly curriculum. It's everything you need to teach Luke 15 The Parables of the Lost Sheep and Coin with confidence!