Home

/

Jonah 3 Nineveh Repents Bible Word Search Puzzles
Jonah 3 Nineveh Repents Bible Word Search Puzzles
By: Sharefaith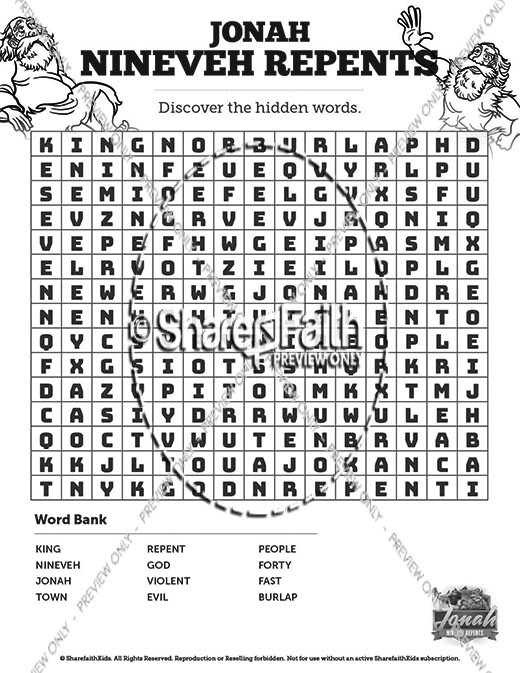 Description: If your kids like solving puzzles then they are going to love this Jonah 3 Bible Activity. Filled with big ideas and key terms from the Nineveh Repents Sunday School lesson, this Bible Word Search Puzzle is a must-have kids resource!
More From This Lesson: Jonah 3 Nineveh Repents
In this Jonah 3 kids Bible story, After the fish spit out Jonah on the shore, God spoke to him a second time. God told Jonah to go to Nineveh to tell them to repent. This time, Jonah got up and immediately obeyed God. When he reached the massive city of Nineveh, which took three days to cross, he walked for an entire day before he stopped and delivered God's message to the people. When the king heard Jonah's message from God, he also changed into burlap clothing and sat in the dirt. When God saw how the people of Nineveh had reacted to His message, He changed His mind and decided not to punish them as He had planned. Inside this kids Bible lesson you'll find an exciting resource bundle that includes a beautiful Bible video, teaching slideshow, fun activities, an interactive family devotional, and volunteer-friendly curriculum. It's everything you need to teach Jonah 3 Nineveh Repents with confidence!