Home

/

John 20 Doubting Thomas Curriculum
John 20 Doubting Thomas Curriculum
By: Sharefaith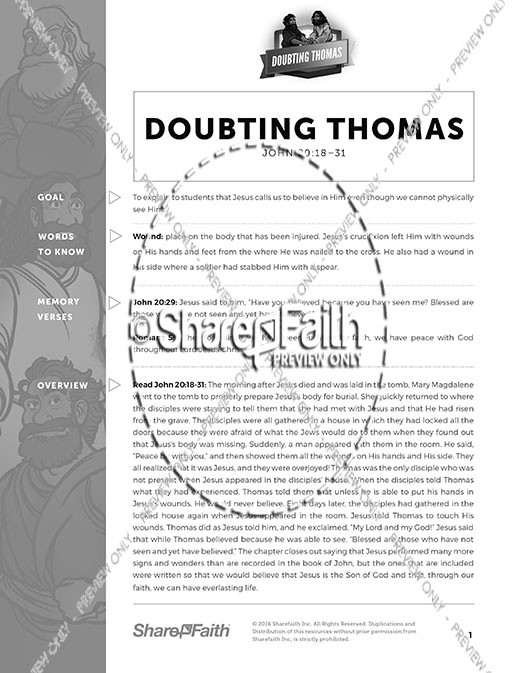 Description: The John 20 Doubting Thomas Sunday School Curriculum empowers you to confidently teach an inspiring John 20 Sunday School lesson to your kids. This must-have teaching resource is packed with content that includes key teaching points, activities, Q&A discussions, closing prayer and so much more!
More From This Lesson: John 20 Doubting Thomas Bible Lesson
The morning after Jesus died and was laid in the tomb, Mary Magdalene went to the tomb to properly prepare Jesus's body for burial. She quickly returned to where the disciples were staying to tell them that she had met with Jesus and that He had risen from the grave. The disciples were all gathered in a house in which they had locked all the doors because they were afraid of what the Jews would do to them when they found out that Jesus's body was missing. Suddenly, a man appeared with them in the room. He said, "Peace be with you," and then showed them all the wounds on His hands and His side. They all realized that it was Jesus, and they were overjoyed! Thomas was the only disciple who was not present when Jesus appeared in the disciples' house. When the disciples told Thomas what they had experienced, Thomas told them that unless he is able to put his hands in Jesus's wounds, He would never believe. Eight days later, the disciples had gathered in the locked house again when Jesus appeared in the room. Jesus told Thomas to touch His wounds. Thomas did as Jesus told him, and he exclaimed, "My Lord and my God!" Jesus said that while Thomas believed because he was able to see, "Blessed are those who have not seen and yet have believed." The chapter closes out saying that Jesus performed many more signs and wonders than are recorded in the book of John, but the ones that are included were written so that we would believe that Jesus is the Son of God and that, through our faith, we can have everlasting life.