Home

/

1 Samuel 18 19 David, Saul, & Jonathan Sunday School Crossword Puzzles
1 Samuel 18 19 David, Saul, & Jonathan Sunday School Crossword Puzzles
By: Sharefaith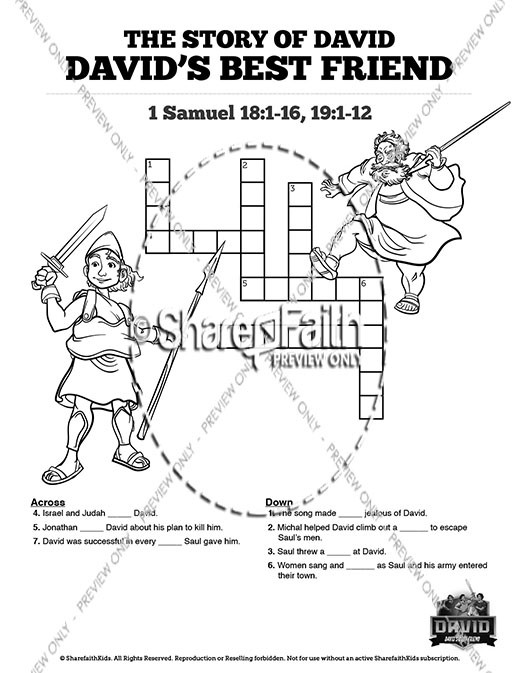 Description: This 1 Samuel 18-19 David, Saul, & Jonathan Crossword Puzzle will get your kids searching their Bibles! Filled with questions from the David, Saul, & Jonathan Sunday School lesson this printable activity is a dream come true for any teacher!
More From This Lesson: 1 Samuel 18 19 David Saul and Jonathan Bible Story For Kids
In this 1 Samuel 18-29 kids Bible story, after defeating Goliath, David was promoted by King Saul. Meanwhile, Jonathan, Saul's son, made a covenant with David, and gave him his robe, armor, sword, bow, and his belt as a sign of his friendship. David was wildly successful in every mission and soon Saul became jealous of David's success. Filled with anger Saul decided to kill David! Inside this kids Bible lesson you'll find an exciting resource bundle that includes a beautiful Bible video, teaching slideshow, fun activities, an interactive family devotional, and volunteer-friendly curriculum. It's everything you need to teach 1 Samuel 18-19 David, Saul, & Jonathan with confidence!